Join us at the new Play + Learn conference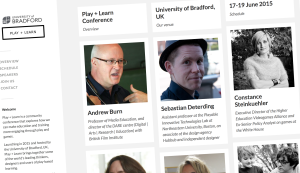 I delighted to announce a brand new initiative focussing on play and learning in the UK. The inaugural Play+Learn conference will take place on 17-19 June 2015 at the University of Bradford.
Play is our most elemental vehicle for learning, and new digital tools like games provide whole new worlds for exploration and interaction. Together we'll explore how we can make learning and training more engaging through play, learn from best practice and improve our ability to collaborate.
Such is the importance of this work that we have some of the world's leading experts taking part. Ex-White House Senior Policy Analyst, Constance Steinkuehler, is sharing her thoughts along with radical thinker, Sebastian Deterding and the eminent Professor Andrew Burn.
"The Play + Learn event will connect the leading thinkers, designers, and practitioners working at this intersection to think about how we might leverage the capacity for new tools for engaged learning through impactful play. I am excited to be part of the conversation!"
Constance Steinkuehler
As well as academics from around the world, we'll be joined by senior industry figures from organisations including the BBC and Oxford University Press, and cutting edge creatives from the games companies, art and culture.
The programme includes insights from education and training, healthcare, museums and the Arts.
Andrew Burn comments:
"As the cultural significance of digital games continues to grow in education as in society at large, it's great to bring together researchers and practitioners from the international community to share ideas and practices" 
Confirmed speakers include:
Constance Steinkuehler (University of Wisconsin-Madison, USA)
Sebastian Deterding (Northeastern University, USA)
Andrew Burn (University of London, UK)
Kurt Squire (University of Wisconsin-Madison, USA)
Elizabeth Wood (University of Sheffield, UK)
Tim Wright (XPT, UK)
Dylan Yamada-Rice (University of Sheffield, UK)
Nic Whitton (Manchester Metropolitan University, UK)
Chris Sizemore (BBC, UK)
Paul Rissen (BBC, UK)
Judy Robertson (University of Edinburgh, UK)
Alison Gazzard (University of London, UK)
Ian Palmer (Escape Studios, Pearson College, UK)
Tasso Stevens (Coney, UK)
Hanne Marchmann (HKU University, Netherlands)
Richard Holmes (Kings Foundation, UK)
Shane Rae (Oxford University Press, UK)
Why not join us? This will be a important and focussed time to learn, be inspired and build collaborations so there are limited places available. Book now.