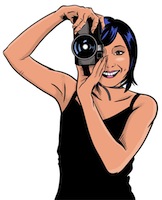 Being aware of the information we share is an increasingly important consideration in our connected lives.  Many of us don't really think about the digital footprints we leave or what organisations might do with the apparently trivial details they gather when we sign up for new products or services.  Many "free" offers are contingent on us handing over personal details and we rarely consider where these end up: if you're not paying for a digital product, you are the digital product.
If you're not paying for a digital product, you are the digital product.
Conscious of the normalisation of handing over personal data when signing up for something new online, and to coincide with the  Economic and Social Research Council's (ESRC) Festival of Social Science, Play with Learning was commissioned by the UK's Open University to help develop a game that could tackle the issues.  In a first for the OU, we have launched a multiplayer game on Facebook where you can explore the value of information.
Playing a different character and entrusted with various pieces of information in the game, you take turns to share and trade data in an attempt to maximise its value.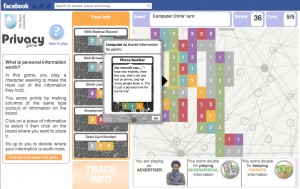 The original card game was developed by David Barnard Wills as part of the Engineering and Physical Sciences Research Centre (EPSRC) funded Visualisation and Other Methods of Expression (VOME) project, which was based at Cranfield, Royal Holloway and Salford University. We took the basic mechanics and converted it to a competitive online game.
Playing a game on Facebook that explores privacy is novel and ironic and hopefully will encourage us to think about what we should share and what we should keep private.
You can learn more about the OU's related studies on OpenLearn.
There's a flurry of Facebook scams going around at the moment. They are irritating but harmless – merely reposting themselves on friend's walls if clicked.  Their enticement seem to take two forms: the promise of learning who's been viewing your profile or titillating content.
Even though it might be desirable, no-one can see who's been looking at your Facebook content.  Facebook itself outlines its policy saying applications "cannot provide this functionality."
The second scam promises some salacious gossip – photos of Bin Laden's corpse, the identity of footballers with super injunctions or a girl's embarrassing video.  It's that timeless temptation to revel in someone else's misfortune that proves so compelling.  But again, it's a scam.
Both traps use the 'click as consent' loophole to access your friends list. That is, merely by clicking the link, Facebook regards you as a willing participant in the sharing of your data.  There's no middle ground – it's all of nothing with your permission – even in instances like these where it's patently false pretences.
To me, it's telling that Facebook preserves the ability to monitor viewing habits for business gain while not disabling the auto-repost functionality associated with these scams.  I can only assume that the ease of permission-giving for legitimate (and commercially valuable) application is worth the inconvenience generated by these scams.
What do you think?
One of the most potent aspects of Facebook, and to a lesser extent Flickr,  Twitter and alike, is the opportunity it gives us to pry.  Like looking into curtainless windows after dark, we get a unique insight into the lives of other people.  We know they're not faking their profiles – there are too many witnesses for them to misrepresent themselves.  And yet they have no idea we've been looking.  It's a seductive inequality.  But doesn't it also intrigue us about who has been looking in on our lives.
Despite an abundance of stats, it is notoriously difficult to determine who exactly has visited.  Even in closed spaces like Facebook, you cannot find out which of your friends popped by unless they leave a comment or a 'Like'.  Although currently there's a rash of scams promising to divulge this information, it is impossible to learn who's simply had a nose around.  In fact, Facebook provides less visitor information than just about any other social site despite tracking exactly what each of us is doing and supposedly being a community of 'friends.'  Flickr and LinkedIn both provide quantitative stats describing views but nothing about who.
However, it is precisely this sort of information that makes these sites so commercially valuable.  Google, Amazon, even Facebook, make significant amounts of money from tracking our every move and translating it into personalised advertising.  Every click, search or view on their sites helps them to refine their marketting algorithms, honing their understanding of our behaviour in an attempt to distill our essence into something useful.
Wouldn't it be fascinating to know who has been interested in us?  It's clearly of commercial value, don't you think there could be social capital there too?  Would it help build relationships by exposing the degree of attention we give to each other: highlighting particular areas of common ground but without the need to actually contribute anything tangible?  Would help reduce anti-social online behaviour?  Back in 1973, the psychologist, R J Watson, identified the negative social effect of anonymity and the associated lack of accountability. Maybe, open transactions might make the web a safer place?
Big Business already has this information about us but looks at it from a purely commercial perspective.  What could we do with it?
I have the privilege and pleasure of helping out at the local youth group. On Monday we had our Christmas party.  I took some photos.  And put them onto Facebook – inevitably the online social hub of the group.  I also posted them on Flickr.  I received a note asking why I'd duplicated the effort.  Surely Facebook is enough?
It seems a fair point.  What can't you do on Facebook now? Photos, videos, email, games, chat…?  Isn't the technological singularity of the platform all persuasive?  David Kirkpatrick believes that Facebook will become ubiquitous: "In five years there won't be a distinction between being on and off Facebook" he says in his book, The Facebook Effect.  But the question is, can it be as good as a dedicated resource?
We're witnessing an interesting technological phenomena.  Actually for the second time.  Initially, ease of use actually degrades the quality.  Look at the the MP3/ ipod revolution – the technical quality of music recording dropped significantly.  We sacrificed fidelity for convenience.  And now, we've reached the point where Generation Y apparently prefer the tinny low resolution sound of highly compressed audio.  The advances offered by CDs have gone (ignoring for a moment, the purists' argument about the warmth of vinyl).
So it is with Facebook.  Yes, it offers mail but it's not as good or as flexible as Outlook; chat isn't as good as IM; viewing photos isn't as good as Flickr.  Of course it might just be a question of time – Facebook may buy or develop software that is comparable to specialised applications, or as we've seen with MP3s, we may simply accept the restrictions as a reasonable price for convergence.
However, there is a new technical 'kid on the block' that might spoil Facebook's party – apps.  The transformation that Apple's App Store and its mimics has offered to software development is astonishing.  It is a twenty-first century cottage industry with global distribution.  And it is an industry dedicated to highly tailored, specialised tasks – finding local restaurants, free car parking spaces, to do lists.  It offers software produced elegantly to address a single challenge.  And it is fantastically successful both for producers and consumers.  The appeal of bespoke apps is their fitness for purpose: they are not bloated with unnecessary functionality – they focus on doing one thing well.  If I want to upload a photo, I don't want to start up a whole image processing package.  It's partly the immediacy of need associated with mobile computing – "I need something specific. Now."
In January, Apple opens its App Store for computer software.  I wonder if it will prove as successful as it's iPhone/iPod/iPad brethren?  Or whether the specialists be swallowed by the all-consuming Jack of All Trades?
You may well have seen the campaign on Facebook to change your profile picture to a childhood cartoon character.
The changes were accompanied by a status update like this:
Change your facebook profile picture to a cartoon character from your childhood and invite your friends to do the same. Until Monday, December 6, there should be no human faces on facebook, but an invasion of memories! This is for a campaign against violence on children.
I changed mine (and received all sorts of friendly abuse questioning whether I was young enough to choose this particular character from my childhood!).  About 30% of my Facebook friends changed their profile pictures too.
But lots of people have been sceptical as Mashable reported last week.  And of course, this wasn't official charity-supported campaign.  Although some people inserted NSPCC into their updates, it was not an NSPCC initiative (although I suspect the charity wishes it had have been given the social infectiousness).
Many people got quite cross about it, some even Daily Mail* hysterical: "Apparently that picture change was a scam from those dirty bastards that would harm our children" but most were irritated by the claim that this would make any difference:"Can anyone explain how changing my profile pic to a cartoon character is going to stop child abuse?" posted one of my good friends.
Can anyone explain how changing my profile pic to a cartoon character is going to stop child abuse?
But that's the theory of social advertising isn't it? A small statement made by masses to promote a commonly-held view.  I agree with Malcolm Gladwell's assertion that the "weak ties [of social media] seldom lead to high-risk activism" but I don't discount them entirely as a vehicle for change.  However small a token, millions of people changed their pictures to make a personal statement.  It was a relatively effortless act but that doesn't denude its value.  Granted it might have been better if everyone of us who changed our picture had made a donation to a relevant charity (and I'd still encourage you to do that) but more powerful is the badge that says "This is unacceptable to me." This withdrawal of social acceptance is the basis for changed behaviour.
The vast majority of child abuse is perpetrated by the family of the victim or by a family friend.  This cartoon campaign is likely to have reacheed deeper into those dark recesses of society than any mainstream, institutional, advertising campaign because it's been personal and social.  Maybe some of those who changed their picture might go on to support a child advocacy charity, maybe it simply prompted a bit of discussion but maybe, just maybe, it was the kernel of a shared belief that changing bahaviour starts in a small personal way. I hope so.
——————–
Update – NSPCC put this note on their official Facebook page:
"Thank you to everyone who has been supporting the NSPCC! As a result of the Facebook cartoon campaign, we have experienced a massive jump in traffic to our website and an unprecedented surge in donations. How did the campaign impact you? We would love to hear your story."
——————–
*Please remember this is the UK's Daily Mail with no greater evidence than "one Facebooker." It's just wild unsubstantiated rabble-rousing nonsense. I'm almost embarrassed about including it but it is precisely this kind of irresponsible reporting that prevents us from tackling these issues constructively.
A couple of weeks ago I talked about a piece of informal research I'd conducted with teenagers about their use of Facebook and wondered aloud how their average of 400 'friends' correlated with Dunbar's number of meaningful relationships? Could those many hundreds of connections translate into a genuine social circle?
Likewise, Twitter's ability to broadcast minutiae to the world amplifies our ability to share intimate moments with friends and strangers alike. Does it make everyone a friend?  Conversation with David Squire highlighted the illusion of intimacy that these insights present: it feels like we know the person tweeting.  But of course the relationship is entirely unequal – celebrities, real or virtual know nothing of us – any conversation will be one-sided at best and embarrassingly superficial at worst.
Charismatic individuals have always flourished. That ability to make people feel important is a priceless gift.  Even if not telegenic, I remember one friend telling me how utterly beguiling was John Major, the ex-Prime Minister.  Clinton, Obama and Cameron are charmers too. It's rare that politicians become leaders without an ability to woo (although perhaps Gordon Brown took Machiavelli's advice that fear was a more consistent instrument for maintaining power). And politics isn't the only business where personality is the dominant factor in success, showbiz and finance depend as much on an ability to ingratiate as any particular vocational skill.  But does the social media industry cynically trade on friendship too?
It is easy to be sceptical. Chris Brogan (146000+ Twitter followers, 4500+ Facebook friends) shared some thoughts about the potential for a social crash in his blog recently. He warns us of a need to be content with 'ambient connectivity.' So is that merely an excuse to justify professional acquaintances and maintain the veneer of sincerity? I don't think so for Chris but then Chris is an exceptional human being.
Just as I was losing faith in anyone's ability to sustain that many relationships, Chris sent a note to me based on the fleeting moment we met. Given the number of people he meets on a weekly basis, that refreshed contact felt astonishing.  But then you don't forge a career like Chris's without being extraordinary.
I wonder about us mere mortals though.  And the prospects for depth rather than breadth of relationships in everyday social life.  Perhaps the two positions are not exclusive.  Wily celebrities will always exploit new technologies to endear themselves to a wider audience and I suspect we will always be willing participants in the delusion of a "relationship" but I see no evidence in the mainstream of people expanding their connections online at the expense of intimacy with their real-world friends.  More likely, social media enables us to enrich our real friendships with ubiquitous access to their lives and simultaneously increases the penumbra of our personal society by exposing us to people who might otherwise pass us by.
There's been all sorts of hoo-haa about the 'RIP Raoul Moat you Legend' Facebook page and its 30,000 fans.  Now it's been removed by its creator, Siobhan O'Dowd.
What the media hasn't reported is that one needed to be a fan in order to comment.  And most of the comments were virulently anti-Moat.  Evidently most of the 30,000 'fans' were arguing that a tribute site to a cowardly murderer was obscene.
What was interesting to me was the majority of anti-Moat comments were articulate and clear.  The responses and the pro-Moat posts were characterised by text-speak spelling.  The debate was passionate but the discrepancy in perspective and style led to a class war of comments where each side denounced the other as a 'snob' or 'chav.'
Shame the politicians didn't actually look at the site and rather than condemn it blindly, look at the continuing class rifts in British society and the ongoing demonization of the poor.
(note to self – next time I look at a site like this, take a screen grab!)
In my previous post, I suggested that for learning providers, simply having a presence on social media networks is not enough to engage students: not only are teens fabulously fickle, they are wary, resentful even, of authorities encroaching into their personal space:
"Facebook is more a 'personal' thing and i don't really want to get school involved in it," said one 14 year old girl.
"i believe that the schools influence should remain on the premises and should not stray into your social life," echoed a 16 year old boy.
Unlike the natural attraction teens demonstrate towards their peers, it seems fairly rare for a teen to show any intrinsic interest in their school or college (75% say they don't or wouldn't use a school Facebook page).  In the main, they're just not interested.  If they're there, they want something from it.
An establishment in Buckinghamshire provided a range of bespoke collaborative tools hosted on their virtual learning environment (VLE).  But the tutors were disappointed to discover that no students used the tools beyond the induction session and the compulsory assessment exercises.  Meanwhile there was an entirely independent and thriving Facebook community where students shared experiences and supported each other with assignments.  It wasn't that the institution's tools weren't good, on the contrary, they were far more tailored to the needs of the students than those available publicly; rather the issue was one of trust and management.  Participation in the formal learning environment transferred ownership and authority to the college, students were effectively entering school property. And the contributions in that space felt more scrutinised than the open-to-anyone Facebook group.  The knowledge that tutors were 'lurking,' albeit benignly, in the VLE gave the impression that every post was being assessed and this prevented any free-flowing conversation.  The Facebook group, on the other hand, was theirs, and somehow psychologically isolated from prying eyes.

The case study also illustrates the challenge of managing online spaces.  Bear Stearns (the global investment bank now part of JPMorgan Chase) defined 4 categories in the social networking space and Matt Locke of Channel 4 revised those categories into his six spaces of social media.  If any activity can be compartmentalised into dedicated domains (e.g. science in the laboratory,
work email on the office computer) then switching tasks is as straightforward as swapping rooms but when the lines start to blur (such as homework), people seek the path of least resistance – how do I do this most easily?  In these cases, the management of the online spaces often boils down to "Can I do what I need to here?"  Unless the second online space has something new to offer, or perhaps more importantly makes life easier, users will generally make do with what they have: simply duplicating facilities is not enough to encourage people to transfer allegiance or manage both simultaneously.
Engaging learners isn't just about making the resource fit the user's space though. A recent research project in Scotland described a year-long study where students were given a host of social media tools to co-develop learning materials for their course.  The team reported a number of positive findings including the value of contributing and the sense of feeling part of something.  But they also described how users regarded participation as extra pressure and how it didn't improve reflective practice.  Most tellingly, no-one, not one single student, continued to use the tools after the study (and its associated payments and incentives) finished.
I think what these examples demonstrate is that you can't force students to engage with social media and secondly if there is a genuine need or desire, learners will seek out the most convenient format, regardless of where that sits, but ideally in  spaces they already operate.
Crucially though, neither initiative offered any real value to the learners.  In their own words:
"I don't think there's anything on it that i need to know"
"I just dont bother to and im busy."
We seem to forget that young people are not compelled to accept Authority coming into their personal spaces.  At this age (14-19), perhaps more than any other, learners will never be 'friends' with their school or college.  At best, the institution will be a 'Dad at the Disco' type acquaintance.  The only reason learner's will come, let alone participate, is if they believe they will profit from the effort – either through immediate gratification or by taking something away that improves their life.
I was fortunate to participate in the recent Social Media in Education podcamp at Doncaster College. In the midst of many people highlighting the benefits of social media, I speculated about the reasons so many initiatives from educational establishments fail to engage. Not to ridicule or condemn but to improve. This is about learning, after all.
My slightly provocative take on the issue isn't because I think Facebook, Twitter, et al are frivolous and whimsical distractions. I don't consider myself a Luddite. My whole career has focussed on education: I believe wholeheartedly that technology can enhance the learning process and we know that learning is dependent on dialogue so social media should represent the perfect learning technology. In that case, why do so many social media projects from learning providers not deliver?
I think there are three key reasons for our failure:
• We don't appreciate online user behaviour
• Our projects don't offer real value to learners
• Our social media schemes don't actually support learning
Let me illustrate what I mean over this and the next couple of blog posts.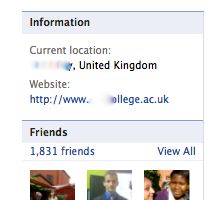 Many schools and colleges have Facebook pages. Some, like this particular centre in the Midlands, have an apparently respectable number of 'fans': more than 1800 from a total student body of 9500.
That seems quite impressive until one starts to examine Facebook usage by the 14-19 year old age group. Rather than rely on the official statistics, I conducted my own piece of research with some of the young people I have the privilege of supporting at a couple of youth groups in the UK.
I spoke to fifty teenagers, not a particularly large sample but broadly representative of the national socio-economic mix so I feel reasonably confident that we can draw some conclusions from their responses.
The first thing to recognise is that this age group has considerably more 'friends' than Facebook users generally. In my sample, the mean number of 'friends' was 402, and to acknowledge the distortion caused by the odd couple who had 1000 or more connections, the median value was 361. This is significantly more than current average of 130 (http://www.facebook.com/press/info.php?statistics) and Dunbar's Number of the most people with whom we can maintain a stable relationship (http://en.wikipedia.org/wiki/Dunbar%27s_number).
What's more, in this small group at least, the number of friends was increasing by 2% a week.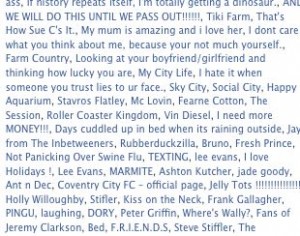 A few interesting aspects came out of the research: 46% of teenagers have 'friends' online they've never met, and while they are happy to be linked to parents and even real world enemies (frenemies?), they generally shun Authority. Just 2 of the 50 were online friends with teachers or tutors and only 24% would even consider 'liking' their college. Bluntly, teens would rather be friends with their enemies than their schools.
At the same time as acquiring large number of 'friends,' teenagers 'like' more than 320 pages each and it is indicative of the superficial nature of these endorsements that the figure is increasing by 10% a week. This is especially true of younger Facebookers. 'Liking' something on Facebook is a largely meaningless whim.
But, for me the most damning comment on our attempts to penetrate students social media lives isn't the fickle nature of association, it is the lack of interaction. The Facebook wall of my randomly-chosen college consists

almost entirely of officially posted statements. It is a broadcast. Not dialogue. Not conversation. Not a relationship. Not social in any way. That's what condemns it. And it's epitomised by the need of the College to 'like' its own comments. Because no-one else will.