In my previous post, I suggested that for learning providers, simply having a presence on social media networks is not enough to engage students: not only are teens fabulously fickle, they are wary, resentful even, of authorities encroaching into their personal space:
"Facebook is more a 'personal' thing and i don't really want to get school involved in it," said one 14 year old girl.
"i believe that the schools influence should remain on the premises and should not stray into your social life," echoed a 16 year old boy.
Unlike the natural attraction teens demonstrate towards their peers, it seems fairly rare for a teen to show any intrinsic interest in their school or college (75% say they don't or wouldn't use a school Facebook page).  In the main, they're just not interested.  If they're there, they want something from it.
An establishment in Buckinghamshire provided a range of bespoke collaborative tools hosted on their virtual learning environment (VLE).  But the tutors were disappointed to discover that no students used the tools beyond the induction session and the compulsory assessment exercises.  Meanwhile there was an entirely independent and thriving Facebook community where students shared experiences and supported each other with assignments.  It wasn't that the institution's tools weren't good, on the contrary, they were far more tailored to the needs of the students than those available publicly; rather the issue was one of trust and management.  Participation in the formal learning environment transferred ownership and authority to the college, students were effectively entering school property. And the contributions in that space felt more scrutinised than the open-to-anyone Facebook group.  The knowledge that tutors were 'lurking,' albeit benignly, in the VLE gave the impression that every post was being assessed and this prevented any free-flowing conversation.  The Facebook group, on the other hand, was theirs, and somehow psychologically isolated from prying eyes.

The case study also illustrates the challenge of managing online spaces.  Bear Stearns (the global investment bank now part of JPMorgan Chase) defined 4 categories in the social networking space and Matt Locke of Channel 4 revised those categories into his six spaces of social media.  If any activity can be compartmentalised into dedicated domains (e.g. science in the laboratory,
work email on the office computer) then switching tasks is as straightforward as swapping rooms but when the lines start to blur (such as homework), people seek the path of least resistance – how do I do this most easily?  In these cases, the management of the online spaces often boils down to "Can I do what I need to here?"  Unless the second online space has something new to offer, or perhaps more importantly makes life easier, users will generally make do with what they have: simply duplicating facilities is not enough to encourage people to transfer allegiance or manage both simultaneously.
Engaging learners isn't just about making the resource fit the user's space though. A recent research project in Scotland described a year-long study where students were given a host of social media tools to co-develop learning materials for their course.  The team reported a number of positive findings including the value of contributing and the sense of feeling part of something.  But they also described how users regarded participation as extra pressure and how it didn't improve reflective practice.  Most tellingly, no-one, not one single student, continued to use the tools after the study (and its associated payments and incentives) finished.
I think what these examples demonstrate is that you can't force students to engage with social media and secondly if there is a genuine need or desire, learners will seek out the most convenient format, regardless of where that sits, but ideally in  spaces they already operate.
Crucially though, neither initiative offered any real value to the learners.  In their own words:
"I don't think there's anything on it that i need to know"
"I just dont bother to and im busy."
We seem to forget that young people are not compelled to accept Authority coming into their personal spaces.  At this age (14-19), perhaps more than any other, learners will never be 'friends' with their school or college.  At best, the institution will be a 'Dad at the Disco' type acquaintance.  The only reason learner's will come, let alone participate, is if they believe they will profit from the effort – either through immediate gratification or by taking something away that improves their life.
I was fortunate to participate in the recent Social Media in Education podcamp at Doncaster College. In the midst of many people highlighting the benefits of social media, I speculated about the reasons so many initiatives from educational establishments fail to engage. Not to ridicule or condemn but to improve. This is about learning, after all.
My slightly provocative take on the issue isn't because I think Facebook, Twitter, et al are frivolous and whimsical distractions. I don't consider myself a Luddite. My whole career has focussed on education: I believe wholeheartedly that technology can enhance the learning process and we know that learning is dependent on dialogue so social media should represent the perfect learning technology. In that case, why do so many social media projects from learning providers not deliver?
I think there are three key reasons for our failure:
• We don't appreciate online user behaviour
• Our projects don't offer real value to learners
• Our social media schemes don't actually support learning
Let me illustrate what I mean over this and the next couple of blog posts.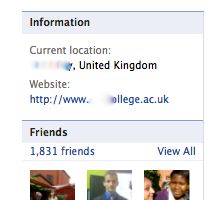 Many schools and colleges have Facebook pages. Some, like this particular centre in the Midlands, have an apparently respectable number of 'fans': more than 1800 from a total student body of 9500.
That seems quite impressive until one starts to examine Facebook usage by the 14-19 year old age group. Rather than rely on the official statistics, I conducted my own piece of research with some of the young people I have the privilege of supporting at a couple of youth groups in the UK.
I spoke to fifty teenagers, not a particularly large sample but broadly representative of the national socio-economic mix so I feel reasonably confident that we can draw some conclusions from their responses.
The first thing to recognise is that this age group has considerably more 'friends' than Facebook users generally. In my sample, the mean number of 'friends' was 402, and to acknowledge the distortion caused by the odd couple who had 1000 or more connections, the median value was 361. This is significantly more than current average of 130 (http://www.facebook.com/press/info.php?statistics) and Dunbar's Number of the most people with whom we can maintain a stable relationship (http://en.wikipedia.org/wiki/Dunbar%27s_number).
What's more, in this small group at least, the number of friends was increasing by 2% a week.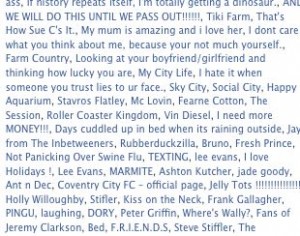 A few interesting aspects came out of the research: 46% of teenagers have 'friends' online they've never met, and while they are happy to be linked to parents and even real world enemies (frenemies?), they generally shun Authority. Just 2 of the 50 were online friends with teachers or tutors and only 24% would even consider 'liking' their college. Bluntly, teens would rather be friends with their enemies than their schools.
At the same time as acquiring large number of 'friends,' teenagers 'like' more than 320 pages each and it is indicative of the superficial nature of these endorsements that the figure is increasing by 10% a week. This is especially true of younger Facebookers. 'Liking' something on Facebook is a largely meaningless whim.
But, for me the most damning comment on our attempts to penetrate students social media lives isn't the fickle nature of association, it is the lack of interaction. The Facebook wall of my randomly-chosen college consists

almost entirely of officially posted statements. It is a broadcast. Not dialogue. Not conversation. Not a relationship. Not social in any way. That's what condemns it. And it's epitomised by the need of the College to 'like' its own comments. Because no-one else will.