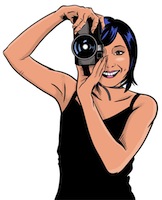 Being aware of the information we share is an increasingly important consideration in our connected lives.  Many of us don't really think about the digital footprints we leave or what organisations might do with the apparently trivial details they gather when we sign up for new products or services.  Many "free" offers are contingent on us handing over personal details and we rarely consider where these end up: if you're not paying for a digital product, you are the digital product.
If you're not paying for a digital product, you are the digital product.
Conscious of the normalisation of handing over personal data when signing up for something new online, and to coincide with the  Economic and Social Research Council's (ESRC) Festival of Social Science, Play with Learning was commissioned by the UK's Open University to help develop a game that could tackle the issues.  In a first for the OU, we have launched a multiplayer game on Facebook where you can explore the value of information.
Playing a different character and entrusted with various pieces of information in the game, you take turns to share and trade data in an attempt to maximise its value.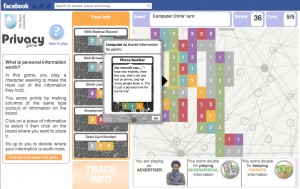 The original card game was developed by David Barnard Wills as part of the Engineering and Physical Sciences Research Centre (EPSRC) funded Visualisation and Other Methods of Expression (VOME) project, which was based at Cranfield, Royal Holloway and Salford University. We took the basic mechanics and converted it to a competitive online game.
Playing a game on Facebook that explores privacy is novel and ironic and hopefully will encourage us to think about what we should share and what we should keep private.
You can learn more about the OU's related studies on OpenLearn.
There's a flurry of Facebook scams going around at the moment. They are irritating but harmless – merely reposting themselves on friend's walls if clicked.  Their enticement seem to take two forms: the promise of learning who's been viewing your profile or titillating content.
Even though it might be desirable, no-one can see who's been looking at your Facebook content.  Facebook itself outlines its policy saying applications "cannot provide this functionality."
The second scam promises some salacious gossip – photos of Bin Laden's corpse, the identity of footballers with super injunctions or a girl's embarrassing video.  It's that timeless temptation to revel in someone else's misfortune that proves so compelling.  But again, it's a scam.
Both traps use the 'click as consent' loophole to access your friends list. That is, merely by clicking the link, Facebook regards you as a willing participant in the sharing of your data.  There's no middle ground – it's all of nothing with your permission – even in instances like these where it's patently false pretences.
To me, it's telling that Facebook preserves the ability to monitor viewing habits for business gain while not disabling the auto-repost functionality associated with these scams.  I can only assume that the ease of permission-giving for legitimate (and commercially valuable) application is worth the inconvenience generated by these scams.
What do you think?
One of the most potent aspects of Facebook, and to a lesser extent Flickr,  Twitter and alike, is the opportunity it gives us to pry.  Like looking into curtainless windows after dark, we get a unique insight into the lives of other people.  We know they're not faking their profiles – there are too many witnesses for them to misrepresent themselves.  And yet they have no idea we've been looking.  It's a seductive inequality.  But doesn't it also intrigue us about who has been looking in on our lives.
Despite an abundance of stats, it is notoriously difficult to determine who exactly has visited.  Even in closed spaces like Facebook, you cannot find out which of your friends popped by unless they leave a comment or a 'Like'.  Although currently there's a rash of scams promising to divulge this information, it is impossible to learn who's simply had a nose around.  In fact, Facebook provides less visitor information than just about any other social site despite tracking exactly what each of us is doing and supposedly being a community of 'friends.'  Flickr and LinkedIn both provide quantitative stats describing views but nothing about who.
However, it is precisely this sort of information that makes these sites so commercially valuable.  Google, Amazon, even Facebook, make significant amounts of money from tracking our every move and translating it into personalised advertising.  Every click, search or view on their sites helps them to refine their marketting algorithms, honing their understanding of our behaviour in an attempt to distill our essence into something useful.
Wouldn't it be fascinating to know who has been interested in us?  It's clearly of commercial value, don't you think there could be social capital there too?  Would it help build relationships by exposing the degree of attention we give to each other: highlighting particular areas of common ground but without the need to actually contribute anything tangible?  Would help reduce anti-social online behaviour?  Back in 1973, the psychologist, R J Watson, identified the negative social effect of anonymity and the associated lack of accountability. Maybe, open transactions might make the web a safer place?
Big Business already has this information about us but looks at it from a purely commercial perspective.  What could we do with it?