I'm excited about this year. I'm not one for making New Year's resolutions but this year is something of a revolution because I have something better. A new business. A new opportunity.
After years of working as an academic, for the BBC and a couple of great independent media companies, I have started my own business, Play with Learning; this blog is its online face.
I've decided to take the experience and expertise I've gained from working in educational media over the last 16 years and translate it into a service I can offer to a wider audience.  Play with Learning is my vehicle for working with partners to create meaningful experiences.  I want to exploit the combination of academic rigour, editorial integrity, innovative creativity and robust project management to provide real value both for content providers and end-users.
So what am I actually going to do? Three things, all focussed on optimising the user experience:
Concept design and testing – helping to establish the most effective solution to needs and requirement for proposals and pre-production and then testing them with users during development
Creative direction – helping teams to maintain the highest level of quality during production by acting as a 'critical friend'
Evaluation – helping to assess impact and return-on-investment on delivered products and services
I'm excited about it.  Maybe we could work together?  Why not drop me a line?  I'd love to see what opportunities there are for us.
In the last few years, some commentators have predicted the death of television, some even championed it, declaring that it was obsolete – superseded by interactive media that offer true user participation. They cite massive user figures for the likes of Facebook, World of Warcraft as evidence that traditional media is on it's way out. Linked with data that charts a declining number of viewer hours, it is a compelling case. But assertions of the imminent demise of broadcast media may be premature.
Last weekend, 20 million people in the UK watched the final of X-factor. It followed a week of Coronation Street where more than 10 million viewers tuned in for every episode. Tonight millions are watching the finale of The Apprentice.  By anyone's measure they are impressive numbers.
However, it isn't the figures that make broadcast remarkable – it is the event it becomes.  All the criticisms of linear media – the lack of viewing control, the fixed presentation, the dictated sequencing – are precisely the aspects that continue to endear the format to the masses.  Sometimes, and particularly after a day at work/ school/ activity of any kind, we don't want to 'sing for our supper', we just want to sit back and be entertained.  In these circumstances, we want to be spoon-fed high quality, low effort content.  Don't get me wrong, I don't mean mindless, senseless, emotionless programming (although arguably even that has its place) rather we want to envelop ourselves in the creativity of media producers that are better than us.  It's not just the luxury of revelling in expert craft that makes it valuable to us – it's the knowledge that others are having the same experience (if not in the same place, at least at the same time).
Newer media lacks a defining moment. Although benefitting from the long tail which accumulates many users over time, each instance sits is a separate fragment of time.  It means that everyone has a uniquely individual experience.
Where television continues to dominate is as the basis for next-day conversation. It is the preeminent catalyst for workplace/ classroom discussion because it provides a shared reference.
There are tremendous opportunities for simultaneous narrative and two-screen experiences but for the time being, television remains the social media.
Some of the articles that I've seen this week.
Pathological internet use by teenagers can lead to depression according to School of Medicine, Sydney and SunYat-Sen University.
Childhood traits predict adult behaviour according to report from University of California Riverside.
Behind the scenes of the museum…there's real value.  Director of the National Media Museum, Colin Philpott, argues the economic benefits of museums. 
Nieman Foundation from Harvard discusses whether Twitter can be a reliable source of news.
The flawed reporting behind headlines of eleven-year olds on the pill.
Short-sighted response from UK government regard IE6.
Russians face security scrackdown for crimes yet uncommitted.
Social media becomes the most common popular activity online, games come second according latest Neilsen research.
How games might improve literacy from the Reading Agency.
How the middle-class are about to be financially proletarianised from the Daily Telegraph of all places.
This is my last blog of the thoughts I shared at the recent Social Media in Education podcamp.  In my previous two posts, I've suggested that educational initiatives using Facebook et al have often failed to appreciate user behaviour or offer any genuine social value to their audience.  I end with the thought that for education providers, reach is not enough – we have to improve the learning of our users through our online schemes.
Increasing numbers of institutions are using games as an educational vehicle.  We know that games are highly attractive to many users, particularly those traditionally hard to reach groups, and we know that gameplay demonstrates all manner of learning processes.  However, it is a mistake to equate high numbers of hits with high levels of learning.
It is clear that quiz-like games are effective at assessing knowledge and good teachers can help players extract lessons and skills from games but as Professor David Buckingham reported for the Byron Report there is no empirical evidence that games per se generate transferable learning, that is learning that is valuable outside the game itself.  What that means in practice is that the ability to solve a fiendishly complex puzzle in Professor Layton doesn't mean you're any better equipped to solve the problem of finding your lost keys at home. Unless, unless, someone talks you through the process of what you've just done and forces you to reflect and describe what's happened.
So the headline figures quoted by some organisations about 'millions of hits' while enviable in terms of reach, are not the whole story for educational ROI. The drive for user numbers is understandable – page impressions are easy to measure, not so with impact, change and learning.  But that's what ultimately matters for us: we're going to have to prove that our investment is more than marketing spend.
In our age of austerity, Education will come under intense scrutiny to prove its value for money both from funders and customer-students.  Our current government has an official antipathy to project-based, holistic approaches. It favours rote learning and a return to 'traditional' subjects as the means of improving educational standards.  It is already a hostile environment for initiatives that appear to be style over substance.  Add to that recent academic reports that suggest computers can be detrimental to the education of poor and disenfranchised learners, amplify those fears through the respectable mainstream press and we face a situation that could put educational uses of technology back a generation.
As someone who believes computers and the web offer unique opportunities for learning it seems that we need to raise our game if we want to exploit social media for education.
In my previous post, I suggested that for learning providers, simply having a presence on social media networks is not enough to engage students: not only are teens fabulously fickle, they are wary, resentful even, of authorities encroaching into their personal space:
"Facebook is more a 'personal' thing and i don't really want to get school involved in it," said one 14 year old girl.
"i believe that the schools influence should remain on the premises and should not stray into your social life," echoed a 16 year old boy.
Unlike the natural attraction teens demonstrate towards their peers, it seems fairly rare for a teen to show any intrinsic interest in their school or college (75% say they don't or wouldn't use a school Facebook page).  In the main, they're just not interested.  If they're there, they want something from it.
An establishment in Buckinghamshire provided a range of bespoke collaborative tools hosted on their virtual learning environment (VLE).  But the tutors were disappointed to discover that no students used the tools beyond the induction session and the compulsory assessment exercises.  Meanwhile there was an entirely independent and thriving Facebook community where students shared experiences and supported each other with assignments.  It wasn't that the institution's tools weren't good, on the contrary, they were far more tailored to the needs of the students than those available publicly; rather the issue was one of trust and management.  Participation in the formal learning environment transferred ownership and authority to the college, students were effectively entering school property. And the contributions in that space felt more scrutinised than the open-to-anyone Facebook group.  The knowledge that tutors were 'lurking,' albeit benignly, in the VLE gave the impression that every post was being assessed and this prevented any free-flowing conversation.  The Facebook group, on the other hand, was theirs, and somehow psychologically isolated from prying eyes.

The case study also illustrates the challenge of managing online spaces.  Bear Stearns (the global investment bank now part of JPMorgan Chase) defined 4 categories in the social networking space and Matt Locke of Channel 4 revised those categories into his six spaces of social media.  If any activity can be compartmentalised into dedicated domains (e.g. science in the laboratory,
work email on the office computer) then switching tasks is as straightforward as swapping rooms but when the lines start to blur (such as homework), people seek the path of least resistance – how do I do this most easily?  In these cases, the management of the online spaces often boils down to "Can I do what I need to here?"  Unless the second online space has something new to offer, or perhaps more importantly makes life easier, users will generally make do with what they have: simply duplicating facilities is not enough to encourage people to transfer allegiance or manage both simultaneously.
Engaging learners isn't just about making the resource fit the user's space though. A recent research project in Scotland described a year-long study where students were given a host of social media tools to co-develop learning materials for their course.  The team reported a number of positive findings including the value of contributing and the sense of feeling part of something.  But they also described how users regarded participation as extra pressure and how it didn't improve reflective practice.  Most tellingly, no-one, not one single student, continued to use the tools after the study (and its associated payments and incentives) finished.
I think what these examples demonstrate is that you can't force students to engage with social media and secondly if there is a genuine need or desire, learners will seek out the most convenient format, regardless of where that sits, but ideally in  spaces they already operate.
Crucially though, neither initiative offered any real value to the learners.  In their own words:
"I don't think there's anything on it that i need to know"
"I just dont bother to and im busy."
We seem to forget that young people are not compelled to accept Authority coming into their personal spaces.  At this age (14-19), perhaps more than any other, learners will never be 'friends' with their school or college.  At best, the institution will be a 'Dad at the Disco' type acquaintance.  The only reason learner's will come, let alone participate, is if they believe they will profit from the effort – either through immediate gratification or by taking something away that improves their life.
I was fortunate to participate in the recent Social Media in Education podcamp at Doncaster College. In the midst of many people highlighting the benefits of social media, I speculated about the reasons so many initiatives from educational establishments fail to engage. Not to ridicule or condemn but to improve. This is about learning, after all.
My slightly provocative take on the issue isn't because I think Facebook, Twitter, et al are frivolous and whimsical distractions. I don't consider myself a Luddite. My whole career has focussed on education: I believe wholeheartedly that technology can enhance the learning process and we know that learning is dependent on dialogue so social media should represent the perfect learning technology. In that case, why do so many social media projects from learning providers not deliver?
I think there are three key reasons for our failure:
• We don't appreciate online user behaviour
• Our projects don't offer real value to learners
• Our social media schemes don't actually support learning
Let me illustrate what I mean over this and the next couple of blog posts.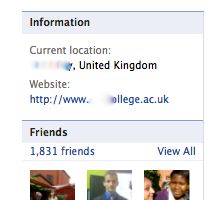 Many schools and colleges have Facebook pages. Some, like this particular centre in the Midlands, have an apparently respectable number of 'fans': more than 1800 from a total student body of 9500.
That seems quite impressive until one starts to examine Facebook usage by the 14-19 year old age group. Rather than rely on the official statistics, I conducted my own piece of research with some of the young people I have the privilege of supporting at a couple of youth groups in the UK.
I spoke to fifty teenagers, not a particularly large sample but broadly representative of the national socio-economic mix so I feel reasonably confident that we can draw some conclusions from their responses.
The first thing to recognise is that this age group has considerably more 'friends' than Facebook users generally. In my sample, the mean number of 'friends' was 402, and to acknowledge the distortion caused by the odd couple who had 1000 or more connections, the median value was 361. This is significantly more than current average of 130 (http://www.facebook.com/press/info.php?statistics) and Dunbar's Number of the most people with whom we can maintain a stable relationship (http://en.wikipedia.org/wiki/Dunbar%27s_number).
What's more, in this small group at least, the number of friends was increasing by 2% a week.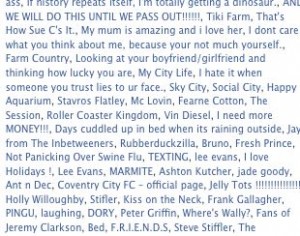 A few interesting aspects came out of the research: 46% of teenagers have 'friends' online they've never met, and while they are happy to be linked to parents and even real world enemies (frenemies?), they generally shun Authority. Just 2 of the 50 were online friends with teachers or tutors and only 24% would even consider 'liking' their college. Bluntly, teens would rather be friends with their enemies than their schools.
At the same time as acquiring large number of 'friends,' teenagers 'like' more than 320 pages each and it is indicative of the superficial nature of these endorsements that the figure is increasing by 10% a week. This is especially true of younger Facebookers. 'Liking' something on Facebook is a largely meaningless whim.
But, for me the most damning comment on our attempts to penetrate students social media lives isn't the fickle nature of association, it is the lack of interaction. The Facebook wall of my randomly-chosen college consists

almost entirely of officially posted statements. It is a broadcast. Not dialogue. Not conversation. Not a relationship. Not social in any way. That's what condemns it. And it's epitomised by the need of the College to 'like' its own comments. Because no-one else will.