Making your workplace more creative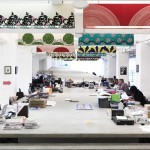 Creativity is the heart of any successful business. The ability to imagine and develop new approaches, products and ways of thinking is crucial to the longterm sustainability and profitability of any organisation. Some of our ability to be creative depends on psychology, some on working practice, some on the space we use. (Please note, I do not believe that creativity is an exclusive 'gift' – it is a skill that everyone can improve). I am running a free seminar where I'll explore how your workplace can be made into a more creative space.
Taking the latest scientific thinking and research evidence as a starting point, I'll examine a range of environmental characteristics that have been shown to improve the ability of people to work creatively. Using real world illustrations, I'll show how small, simple and inexpensive changes to the workplace can encourage a more creative climate.
This seminar will benefit anyone who wants to develop their own creativity or their team's.
My free seminar takes place at 1.30pm on Tuesday 15 October at the John Smiths Stadium, Huddersfield.
It would be great to see you there.